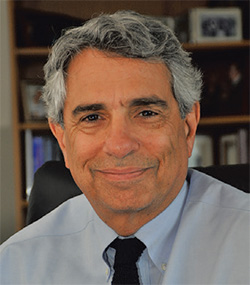 Peter R. Kowey, MD, FACC, FHRS, FAHA
Professor of Medicine and Clinical Pharmacology
Jefferson Medical College
Chairman Emeritus of Cardiology
The William Wikoff Smith Chair in Cardiovascular Research  
Lankenau Hospital and Medical Research Center
Wynnewood, PA
---
Peter R. Kowey, MD, is a graduate of St Joseph's University and the University of Pennsylvania School of Medicine, Philadelphia, Pennsylvania. He completed his residency training in internal medicine at Penn State University and was a Fellow in cardiovascular medicine and research at the Harvard University School of Public Health, the Peter Bent Brigham Hospital, and the West Roxbury VA Hospital. After this training he joined the faculty at the Medical College of Pennsylvania as Director of the CCU and Arrhythmia Program, and rose to the rank of full Professor. He went on to become Chief of the Division of Cardiovascular Diseases at the Lankenau Hospital, the Main Line Health System and President of the Main Line Health Heart Center, posts held from 1990-2016. Dr. Kowey currently is the William Wikoff Smith Chair in Cardiovascular Research. He is also Professor of Medicine and Clinical Pharmacology at Jefferson Medical College.
Dr Kowey is a Fellow of several professional organizations including the Clinical Council of the American Heart Association, the American College of Cardiology, the American College of Physicians, the College of Physicians of Philadelphia, the American College of Chest Physicians, and the American College of Clinical Pharmacology. He was a founding member of the Philadelphia Arrhythmia Group and a charter member of the North American Society of Pacing and Electrophysiology. He has served on numerous committees for each of these organizations including program and abstract review committees for national and international programs. He spent 9 years as a member of the Cardiorenal Drug Advisory Committee, 4 years on the Cardiovascular Devices Committee of the Food and Drug Administration, and was on the Expert Advisory Panel of the US Pharmacopeial convention.  Dr. Kowey was a founding member of the Cardiac Safety Research Consortium and serves on its executive committee.  He also serves as the chair of the NCDR/ACC AF Ablation Registry Steering Committee.
Dr. Kowey and his wife, Dorothy live in Bryn Mawr and have three daughters, all attorneys, Susan Kealy, Jaime Shean, and Olivia Kowey, and six grandchildren. Since his retirement as chief of cardiology, Dr. Kowey continues to see patients in consultation and has taken on a number of non-medical pursuits. He joined the Board of Trustees of St. Joseph's University in 2015 and continues to write fiction.